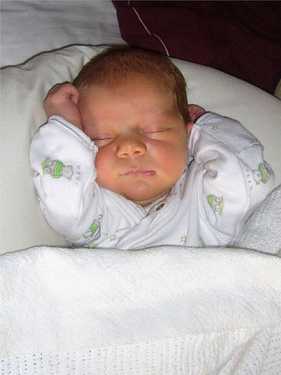 By Angela Horn
About the Homebirth Reference Site
This site has been archived as some of the research summaries are out of date and I don't have time to fix this now. Healthcare research and facilities change over time, and it is important to use up-to-date information to make your decisions. Most of the site is available but please be aware that references to the body of research may be outdated. Your best reference for home birth safety in the UK is the NICE Guidelines - the National Institute for Health Care and Excellence. This is the organisation which impartially reviews healthcare research for NHS guidance. A quick summary and links to current NICE guidance on home birth follow, and links and guidance were current at May 2019:
The NHS Evidence review body, the National Institute for Health and Care Excellence (NICE), reviewed the evidence for the UK and concluded that home birth was as safe as birth in a hospital, or in a midwife-led unit, for low-risk second and subsequent births, and some outcomes were better. However, for first babies there is a small increase in risk for home birth compared to birth in a midwife-led unit.
NICE recommends home birth for some mums
NICE Guidance on Intrapartum Care CG190 (Updated February 2017): Place of Birth
NHS encourages more home births
NHS advice on place of birth - simple version.
The professional colleges issued the following statement in 2007:
The Royal College of Midwives (RCM) and the Royal College of Obstetricians and Gynaecologists (RCOG) support home birth for women with uncomplicated pregnancies. There is no reason why home birth should not be offered to women at low risk of complications and it may confer considerable benefits for them and their families. There is ample evidence showing that labouring at home increases a woman?s likelihood of a birth that is both satisfying and safe, with implications for her health and that of her baby.
That is the summary of the Joint Statement on Home Births (Amended) from the Royal Colleges of the two professions which are the experts on birth in the UK.
Home Births - RCOG and Royal College of Midwives Joint Statement No.2. -April 2007
There have been several large-scale studies of planned homebirth in the UK and Western Europe in the last twenty years, and it has overwhelmingly concluded that planned home birth is a sufficiently safe option for women with normal pregnancies, although we do now know that the risk is increased for first babies. The summaries of research papers here - in plain English - will help you to look at the evidence for yourself.
The aim of this site is not to persuade you to choose home birth. It's not for everybody, but perhaps it's right for your family. I provide information and opinions about home birth, for parents who think that it might be the right choice for them, and for health professionals looking for resources.
Feel free to link to this site, or to any page on it, and to print off any pages for your own use, for teaching purposes, or to pass to friends.
For information about the author, please see Who runs this site, and why?. Please note that I am not a medical professional and this site does not offer medical advice, just information and opinions for you to discuss with your healthcare providers.
Back to the Homebirth Reference Site:
Home Birth in the News - a few updates on press articles and news stories.
Fathers and Homebirth - what is the dad's role at a home birth?
Home Birth on TV - not on this site, but still a resource you might find useful. Wonderful series by Berny Bos called Home Grown Babies, being shown on Living 2 every month or so. It's a wonderful new series following women as they plan home births in the UK. Including first babies, mothers with previous caesarean sections, waterbirths, and transfers to hospital. It is not available to buy on DVD, but many homebirth support groups have copies which they lend out. If you still can't obtain a copy, ask on the Homebirth UK email group.
Midwives must support the homebirth choice The midwives' professional body, the Nursing and Midwifery Council, has published guidance for midwives on homebirth. It makes it clear that midwives should support women's informed choice, even if that means the midwife should improve her training and skills, or if her employer claims that it does not have the resources. It states that the denial of a homebirth service affects women just as much as denying them a hospital birth service. View the NMC Homebirth Circular 8-2006.
Birth Stories - mothers and fathers talk about their babies' births, whether at home or after transferring to hospital (updated April 2008)
Hypnosis for Birth - an increasingly popular way of managing your labour, ideal for use at a homebirth.
Fast Labours - is quicker always better? Birth stories and what to do if your labour is going faster than you thought...
Meconium in the waters - What does it mean when there is meconium in the waters? Is your baby at risk? Should you transfer to hospital? (added 26 August 2006)
Homebirth before 38 weeks - usually health authorities in the UK support homebirth from 37 weeks' gestation, but recently some have changed their policies to 38 weeks, or later, based on research on breathing difficulties in babies born by elective caesarean at 37 weeks. This research does not seem to be appropriate for homebirth babies, born vaginally after a spontaneous labour. An informal discussion of the issues.(added 15 September 2005)
Children and Home Birth - what happens to older siblings when you have a baby at home? Will they be present at the birth? (added 5 August 2005)
Waterbirth at home - using water for pain relief and relaxation in labour, and for the birth itself. Includes issues to consider, links to birth stories, list of books and videos, and links to pool hire companies and sources of more information (updated 11 May 2005)
Group B Strep and Home Birth - what are the issues and options when you have tested positive for GBS? (added 30 september 2004)
"But what if...?" considers some common questions about potential problems at home births - eg a baby needing resuscitation, a cord prolapse or shoulder dystocia. How likely are these scenarios, and what can be done about them? (updated 14 July 2004)
Postpartum Haemorrhage and Home Birth looks at the risk of severe blood loss after birth, and how it would be managed at a home birth. (added 14 July 2004)
The Third Stage of Labour - choosing between active and physiological management of the delivery of the placenta (added 14 July 2004)
Pain relief at home births - an overview of options, including drugs and other approaches, (Updated 25 May 2002)
Overdue, but still want a home birth? Approaching that crucial 42-week deadline, with the threat of hospital induction looming? Make sure that your pregnancy is dated accurately, and that you are aware of the issues surrounding post-dates pregnancy... (added 18 February 2002)
Preparing for a home birth: some suggestions from midwife Mary Cronk, together with a list of the equipment which Mary takes to births.(Added 14 January 2002)
You Can't Have a Home Birth, Because... - a look at the reasons some women are advised to have a hospital birth, to help you make your own choice. Includes discussions on older mothers, grand multiparas, first babies, women with a prior caesarean section, and more. (Updated 30 January 2002)
Blood on the Carpet - just how messy is a home birth? Includes practical tips on rescuing carpets...(15 April 2001)
What if your doctor advises against home birth? (updated 21 February 2001)
Home Birth in the News (updated 23 February 2001)
Home Birthplans - ideas for a birthplan, with provisions for transfer to hospital if required
Vaginal Birth After Caesarean - a collection of pages on many aspects, useful whether you're planning a hospital birth or a home birth (updated 3 December 2000)
If you have a question about homebirth, please join the HomebirthUK list to discuss with mothers and midwives with a massive range of experience. You can remain anonymous - you don't need to use your real name. I am one of the group's moderators and prefer to help with homebirth queries via the list rather than by direct emails.
Click to join homebirthUK
If you're worried about having loads of emails in your inbox then choose the 'mail delivery option' of 'no email/ web only', then you can just read messages on the yahoogroups site and use it like a message forum.
If you need to contact me specifically about this site, please do so via the HomebirthUK list above.
For information about the author, please see Who runs this site, and why?. Please note that I am not a medical professional and this site does not offer medical advice, just information for you to discuss with your healthcare providers.
For a full list of pages on this website, see the Contents Page, or use this site search engine below to find what you need. It will only search this site:
This site was last updated on 23 March 2010. It summarises 37 studies directly relevant to home birth, and many others on related topics.
This site was awarded 5 stars in The Good Web Guide for Parents!
Escape from frames by opening this page in a new window