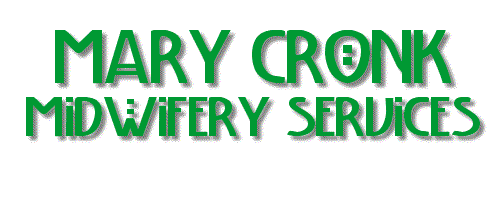 About Mary Cronk, MBE
Mary Cronk MBE was an inspirational midwife who made a real difference to many mothers and babies, and to her fellow midwives.
Mary died on 21 December 2018 and is sadly missed.
Obituary of Mary by Joy Horner
Video of Mary talking about her famous sayings.
Those who wish to share memories of Mary may join the Mary Cronk Appreciation Group on Facebook.
Below is the original text of this page, as written by Mary while she was still working as a midwife.
I am a mature Midwife. I have helped nearly 1600 babies be born. I worked in the NHS for thirty years, mostly in domiciliary practice - helping women have their babies at home in the way they wanted. I loved my job. I left in 1991 to start my own Midwifery practice because it was becoming increasingly difficult to practice woman-centred midwifery within the NHS.
About My Practice
I am happy to take clients who live within about one hour's drive from Chichester, which is in West Sussex, in the South of England.
I offer comprehensive midwifery care to my clients throughout the whole childbearing experience. I am experienced in waterbirths, breech, and twin births, and normal births after previous Caesarian section. I am particularly pleased to care for women whose previous experiences have been poor. I totally support women's informed choice, and offer individualised care to meet individual circumstances.
The package of care I offer includes antenatal care tailored to the woman's needs. Usually this involves monthly visits for the first seven months then fortnightly then weekly in the last month of the pregnancy. These visits are of course to monitor the physical wellbeing of the woman and her baby, but also to get to know the couple, and the aspects of having a baby which are important to them. I work with other practitioners as necessary.
I help women birth their babies as respectfully gently and easily as possible, usually in their own homes, but I can arrange honorary contracts to attend women in hospital within my practice area if that is what the woman wants or needs.
After the birth I visit for a month helping parents adjust to and care for their baby. I am available to the couples who book me at all times.
The total fee for my professional services is £2,750, which can be paid in a variety of ways to suit different budgets. There are no 'extras'. If, for example, extra visits are needed antenatally or postnatally for any reason, that is included. I am happy to have telephone consultations to discuss my practice.
When a woman contacts me I usually offer a consultation visit where we can meet each other and the woman or couple can interview me and see if I am the kind of midwife they want. I can also explore the couple's needs and wishes and see if I feel that I am the right midwife for them. This interview is without any committment on either side. I charge £50 for this which is deducted from the fee if the couple book with me.
Contact Mary
Contact Mary on mary.cronk@selseypc.net
Telephone 01243 670382, Fax 01243671817, mobile 07860 726662
Links
Breech Birth Workshops
Mary and fellow midwife Jane Evans give workshops on breech birth at venues across the UK. For details, see Sharing The Skills (www.sharingtheskills.co.uk)
Equipment for a Home Birth - what I bring with me, and what I ask parents to provide.
Caesarian Section - what to expect if you have an unplanned ('emergency') caesarian, by Mary Cronk
Twins Guidelines - my notes for women expecting twins.
Birthing a Baby By the Breech by Mary Cronk, from 'Midwifery Matters', journal of the Association of Radical Midwives.
This article was also published in the AIMS Journal, Autumn 1998..
Independent Midwives Association (www.independentmidwives.org.uk)
Association of Radical Midwives - information for midwives and parents (www.midwifery.org.uk)
One of Mary's clients who gave birth to twins has written in The Times about her experience:
Before the birth.... (The Times, Saturday 13th January 2001)
And afterwards (The Times, Saturday 3rd March 2001)
---
This webpage is hosted by the Home Birth Reference Site. Mary Cronk is not connected to, or responsible for, the Home Birth Reference Site.