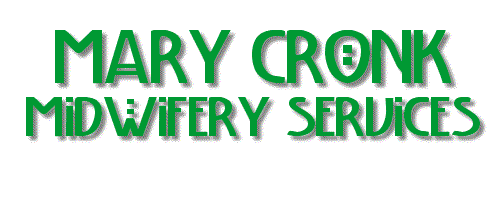 Equipment for a Home Birth
The Midwife's Equipment
I do not deliver a pack. I bring everything I need with me because I do not know when I will be called, and if all my stuff is at Freda's who is well and truly overdue, and then Gladys goes into labour at 38 weeks, I have a difficulty. I have no idea what a midwife would want to leave a pack for, and what on earth would be in it. I have never done so in over thirty years except for the free packs we used to have with lots of Sanitary towels, cotton wool swabs and a "delivery sheet"
I bring:
4 Cylinders of Entonox and the Entonox Head with mouthpieces and a mask.
1 Cylinder of Oxygen, a bag and mask for helping a baby and a bag and mask for an adult.
Baby resuscitation equipment
An IV giving set and IV fluids.
Lots of inco pads (large absorbent pads)
A TENS machine
Pethidine and the antidote Narcan
Syntometrine, Ergometrine and Syntocinon
Blood bottles and blood-taking syringes
Syringes and needles
A sphygnomanometer (for reading blood pressure) and a stethoscope
Baby weighing scales
Cord scissors cord clamps and cord ligatures
Episiotomy scissors.
Suturing materials and local anaesthetics
Baby drugs - konakion (vitamin K)
A nice electric warm pad
Bedpan
Most of this lot I rarely use; my episiotomy scissors have been used twice in ten years. The warm pad is often used.
Equipment for Parents to provide
I ask Women to have:
Something waterproof to protect their carpet or sofa or bed or wherever we end up. There are some green plastic sheets obtainable from garden centres that are ideal and can be used in the garden after the event. Flat dwellers might like to buy a plastic tablecover or a couple of metres of the "American Cloth" that can be used as a tablecover afterwards. Or put under the feeding station of the toddler in due course. (See below for more on waterproof coverings)
Any old sheets or linen. Prospective grandparents are a useful source.
Hot water bottle to put on back or front of Mum in labour and to put on tummy afterwards for afterpains. If parents want to have baby in a crib or cot, hot water bottle warms cot before putting baby in.
Nourishing, easily digested snacks of choice, yoghourts, Jordan bars, sugary sweets, dextrose tablets, bananas, Honey, crisps etc
Nourishing fluids of choice - Lucozade, Irn-bru, Purdeys, Aqua libra, Ginger ale, Fruit Juices, etc
Bendy Straws. In strong labour thirsty mum, who doesn't want to move from hands and knees, can drink easily from bendy straw.
Roll of cotton wool
Box of Large tissues.
Bin liners
A large saucepan and a pudding basin or other small bowl that will fit in saucepan. I boil this lot up with some cotton wool balls and this gives me sterile water, a sterile bowl, and sterile cotton wool.
Some comfortable garments to wear in labour. Baggy soft old T shirts are ideal.
2 or 3 clean preferably new face cloths for hot pads on perineum if necessary or desired.
A nice soft big old towel to cover mum and baby together after the birth.
Old big Knickers
Sanitary Pads
A small soft towel to wrap baby in if necessary.
Pair of medium sized scissors
Nice "staying in bed clothes" to encourage lying back and enjoying it for a few days after the birth. A nice dressing gown to stroll around in likewise, to encourage family to dance attendance. Mum in dressing gown is someone to be looked after. Same mum in jeans and T shirt is someone doing the looking after.
A freezer full of easy prepare meals or ready meals.
VERY IMPORTANT A supply of "proper" building site-type tea for me. None of that poncy Earl Grey or healthy herbal stuff. Quite strong with milk and no sugar, served at fairly frequent intervals.
OPTIONAL EXTRAS
A hand mirror so that mother can see birth if she wants.
Camera and fast film ASA 1000 to record the event if desired, or to take first pictures of gorgeous baby
Champaigne in Fridge.
Expensive Chocolates of Choice.
New Luxury Toiletries of Choice
Presents for parents from each other to mark the event.
Presents for siblings.
Notice for front door reading, Horace and Hilda have had a lovely baby ---Wt-- . No visitors please at present as we are tired. Or All Visitors Welcome Please Ring or Knock or come in.

A Note on Waterproof coverings

Some people suggest that a shower curtain is useful. Not all shower curtains are actually waterPROOF. Some plastic ones are of course, but many are designed not to let a shower of water hitting them vertically through, but will leak fluids through if on the floor.

Practically all the births I attend are at home and I have found a good waterproof (and comfortable) protection for the floor, sofa, bed or wherever we end up, is a couple of metres of that waterproof table cloth that can be bought by the metre at good hardware or kitchen shops. It has a cloth backing and used cloth side up it is comfortable to walk on, and an inco pad stays put on top of it, and the midwife does not slide around all over the place.

Any blood, liquor, gunge, poo, meconium, that escapes the inco pads is easily sluiced off and it can go in the washing machine on a warm or cool wash.

If you select a pattern you like, it can become a new waterproof table cover to protect against the juice, marmite, beans, milk, crumbs, sodden biscuit, cereal, etc that will decorate your table in the near future. It can also go under the table or chair that your little darling may use.