| | | |
| --- | --- | --- |
| | Katsacute Burmese and RoseValley Australian Mist Cats | |
Beautiful kittens, bred for health and temperament.
You will find our Burmese cats and kittens on this page; for our Australian Mist Cats, please see the RoseValley Australian Mist Cat page.

News: Katsacute Dream is now both a GCCF Champion and a TICA Champion

Our beautiful Burmese boy, Dream, also has 2 FIFE Challenge Certificates - so we hope he will become a Triple Champion before the end of the year.

Katsacute Dream

News: Milly is a Grand Champion!

Our beautiful brown girl, Milly (Uptown's mum) is now a Grand Champion, after winning another Grand Championship at the 2008 West of England & South Wales Championship Show. See photos below.
What's on the Katsacute website?
Burmese cats are extremely affectionate, trusting and inquisitive. They like mischief and love human company - they need your attention, and don't restrict themselves to just sitting on your lap for a stroke. Many Burmese enjoy riding round on people's shoulders and snuggling up in bed with you - often under the covers, with their head on your pillow! Burmese cats and kittens often enjoy learning tricks - some owners train them, but many cats make up their own. They are famous for their skills in opening doors!
Burmese keep their kitten-like nature as they grow into adults. A fifteen-year old Burmese may play nearly as much as a one-year-old. They are confident and very trusting, and often get along well with other household pets such as dogs. Because Burmese are so brave and generally relaxed, they relish the stimulation of a busy family home. While more sensitive breeds of cats might be left a nervous wreck in a busy home with dogs, children and frequent visitors, the Burmese generally thinks that all of these are entertainments laid on for her benefit! For a well-socialised Burmese kitten or adult cat, the more visitors, the merrier!
One cat or two?
Burmese enjoy the company of other cats, and it is kindest to keep them with another cat. This is essential if you are going to be out of the house for more than a couple of hours every day - because they are intelligent and active, they can get very bored and demanding if left alone. Adopting two kittens from the same litter is ideal, but otherwise people often introduce a Burmese kitten to an older cat, or adopt a kitten from a cat rescue as well.
House cat or outdoors cat?
Another decision you need to make with Burmese is whether to keep them as house cats, or to allow them to wander outdoors. Because they are so trusting and friendly, the main risk of allowing them outside is that they will be stolen, or taken off by some well-intentioned person who thinks that they are lost (collars and name tags often come off...). The dangers of traffic are present for all cats, but it is possible the trusting and confident nature of Burmese makes them more vulnerable as they just can't imagine anyone, or anything, doing them any harm. Finally, outdoor cats are far more vulnerable to infection with various diseases which are caught in fights with other cats, or from hunting. For these reasons, we recommend that you keep your Burmese cats indoors for safety, but concentrate on providing them with a stimulating environment and lots of fun and interaction.
We breed friendly, confident Burmese kittens, which are available to approved pet homes only. We want our kittens to be one of the family; we do not sell them for breeding purposes.
It is very important to us that our kittens are healthy, so while we like it when they win at beauty contests, we breed for health and temperament first and foremost. We are very careful to avoid close inbreeding.
Our Burmese kittens grow up in a busy family home, receiving lots of love and attention. They are child-proof, dog-proof and generally bomb-proof!
All our Burmese babies are vaccinated, vet-checked, insured, registered with the GCCF, microchipped, and go to their new homes with a full pedigree and diet sheet. I am always happy to answer questions about our kittens, or to provide advice, no matter how long you have had them.
Our Burmese are from multi-coloured lines, which means that our litters contain mixtures of all the Burmese colours - brown, chocolate, cream, red, lilac, chocolate tortoiseshell, blue tortoiseshell, lilac tortoiseshell, and so on.
There is a critical window of opportunity for socialising kittens, between 2 and 7 weeks of age. A kitten which meets a variety of people and has a variety of experiences during this time is likely to grow up to be a confident, friendly cat. The Feline Advisory Bureau says:
"Kittens which meet people and other animals and which are exposed to the general hubbub of life by the time they are eight weeks old will take almost anything in their stride and deal with it as a normal part of life. This is the making of a confident cat"
Our kittens are all kept in a family home in this crucial period, to give them the best socialisation possible. They are handled by our children and grandchildren and by visitors, and they meet with dogs and other cats. When kittens are kept in outdoor catteries for this crucial period, it is much harder to ensure that they have had this sort of socialisation. For more on how to raise friendly and confident kittens, read 'Socialising your Kitten' by pet behaviour expert Gwen Bailey.
You can see our most recent photos on the Katsacute Photo Album.
Uptown Girl wins Best of Breed again.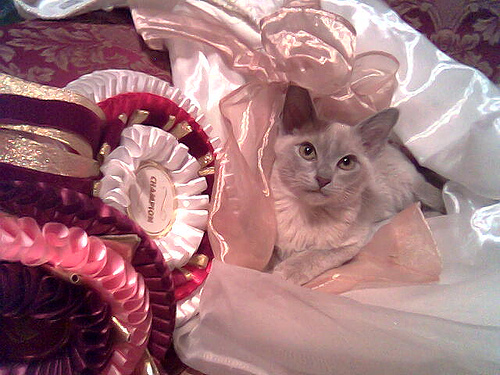 Milly and her daughter Uptown Girl had a successful day at the West of England & South Wales Championship Show on Saturday 25th August 2007. Milly won another Grand Championship award, and Uptown Girl was Best of Breed. This was Uptown Girl's third show; she has won her class each time, and won Best of Breed twice. Uptown has been on maternity leave since then!
Uptown Girl's Babies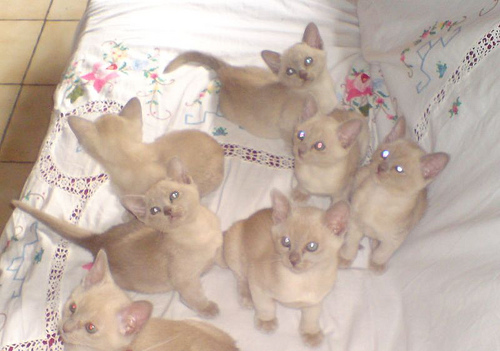 Our lovely Lilac babies at six weeks old. Their dad is a Champion lilac, and their mum is our beauty queen, Uptown Girl.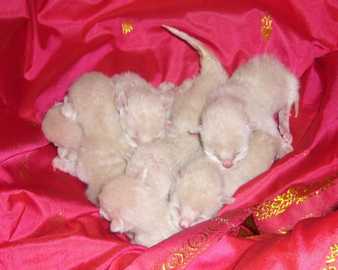 More photos of Uptown's babies .. up to mischief now, and just a couple of days old.
Milly, our Champion brown Burmese
(Milly is otherwise known as Champion Catamarian Ashanti)
Furby - our Champion chocolate Burmese
Lily's Babies
Winter 2006: Some Blue and Lilac kittens being socialised by our grandchildren!
Who's more relaxed?!!
You can see lots more of our Burmese and Australian Mist Cat photos on the Katsacute Photo Album.
You can see lots more of our cat photos on the Katsacute Photo Album, as well as the photo gallery below.
Our Kitten Care Sheet, with advice on diet and general care for your new kitten.
Feline Advisory Bureau - well-respected organisation dedicated to improving the health and welfare of cats
(www.fabcats.org)
The GCCF - governing council of the cat fancy (like the Kennel Club for cats)
Includes lots of advice on choosing and buying kittens, caring for kittens, showing cats, and so on.
(www.gccfcats.org)
The Burmese Cat Club - the UK's club for Burmese breeders and owners.
(www.burmesecatclub.com)
Dr Addie's Feline Coronavirus and FIP website (www.dr-addie.com)
Gwen Bailey's articles on cat behaviour
(www.dogbehaviour.com/behaviourproblems/indexcat.htm)
Rights4petsatvets Campaign for responsible and ethical vet practices - and concerns about 'out of hours' vet agencies.
(http://rights4petsatvets.co.uk)
Show titles- explaining what a Champion, Imperial Premier etc is.
Katsacute Burmese are bred by Valerie and Chris King
We are based between Basingstoke, Newbury and Reading, on the Hampshire/Berkshire borders.
If you'd like to chat about our Burmese or Australian Mist Cats, please contact Valerie King on 0118 9811109 or email katsacute@gmail.com

Graphics © Pat's Web Graphics